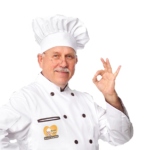 Prepare your Pasta Ready to Eat meals in minutes. In a pan, oven, microwave or bain-marie, bring Italian cuisine to your table! Ready meals with tasty regional recipes, healthy and genuine, prepared according to the tradition of true Italian cuisine. Buy online and get our room temperature products comfortably at home.
Only recipes interpreted with passion, a ready-made meal even out of the home with that goodness as homemade. Delivery via the best express couriers.
In few minutes the meal is ready to be enjoyed quietly everywhere: in the office, in unencumbered cans, at school, on holiday, at friends 'and relatives' houses, at work in the office, or doing a picnic.
Pasta & Gusto Ready to eat is an all natural, fully cooked pasta that's ready in the microwave in just in 1 minute. Made with 3 simple ingredients, Pasta, sauces and passion, no preservatives and coloring free. Simply heat in the microwave, for a quick and delicious dish.

•  You can comfortably warm it all day long, save your money with the Ready Meals of PastaReadyToEat!
•  The commitment of our technicians and biologists, have led in time to develop a production process that stabilizes the product and to stop the process of natural ageing, without the aid of preservatives and coloring.
•  The leftovers will only be a reminder, for any questions or proposal ask us in the Contact Us Page!
•  Our secret is to use since the choices of raw materials, natural products, nutrients and 100% made in Italy and always fresh.
•  Our ready meals Pasta e Gusto can be kept out of the fridge at room temperature, they do not require refrigeration or transportation at controlled temperature.

1. Microwave
Open the package. Place the pan in the microwave without removing the protective film and heat for 90 seconds at 750/900 watt (medium-high).
2. Electric oven
Open the package. Remove the protective film from the tray. Pour the content of the package into a baking pan. Heat at 180°C for 8 or 10 minutes.

3. Pan
Open the package. Remove the protective film from the tray. Pour the content of the package into a pan, add two tablespoons of water and heat for 2/3 minutes over medium heat, stirring carefully.

Fresh Dishes
of Other Brands
1 month shelf life
Fridge Storage
Expensive Transportation
Pasta Ready to Eat Dishes
Out of the Fridge at Room Temperature
12 months shelf life
At room temperature
Warehouse saving
No preservatives
No coloring
Frozen Dishes
of Other Brands
12 months shelf life
Storage at Freezer shelf
Very Expensive Transportation

Pasta & Gusto ready to eat gives you the opportunity to increase your business, becoming an integral part of our structure.
We think that the union makes the strength and mixes their experiences and skills so that you can achieve your success.